OrthoCanada Offers
New deals and promos are updated weekly – don't miss out!
Make sure to login to your Professional account to view all applicable offers & deals.
Don't have an account? Create one today >

Join us at the next Radial Shockwave Therapy course held in Richmond, BC on Saturday November 20th!
Save $25 with code "SWT25"
Learn how Shockwave Therapy can be added as a new tool in your practice.
Covid-19 protocols will be enforced to
ensure a safe environment for all participants.
Until October 31st,
buy a 3 section Seers table* and get a saddle stool
and 8.5" bolster at no charge. (valued at $152)
*Applicable on V-330, V-333 and V-335 Seers tables.
Watch our video on the Seers V-335 table and see why
Seers treatment tables are a fantastic choice for any practice.
Save 25$ off the
CABL+ Trainer with 
code "CABL"
The innovative CABL+ trainer is the perfect strength training and reconditioning solution for physiotherapy and chiropractic clinics, rehabilitation facilities, retirement homes and assisted living facilities. Its patented design of hydraulic gas struts and adjustable weight selector delivers a constant resistance throughout the range of motion during each repetition to generate better results and deliver a greater workout challenge.
New Pricing on Level 2 Masks
As low as 6.99$/box for professionals when you buy a case of 10 boxes.
We hereby confirm that the Level 2 surgical masks distributed by OrthoCanada do not contain nanoform graphene or any type of graphene. 
Please rest assured that the quality and safety of our products is our primary concern.
Items on Sale / Liquidation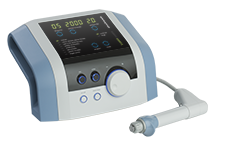 FREE

Virtual Shockwave Training Available
Radial Shockwave Training Essentials
This training is intended for healthcare professionals who need more in-depth knowledge and practice on integrating shockwave therapy in their clinic's treatment options. The objective is to provide the clinician with the necessary tools and techniques to feel comfortable and confident using this modality in their everyday practice and to get the best results for their patients. 
Try a unit before you buy with our trial program!
We offer trials on several of our devices such as Shockwave, Low Level Laser, and even some IFC/Ultrasounds. 

BTL Radial Shockwave
Try the unit for 14 days
Complementary clinical training from a PT with over 10 years of experience
Don't turn away patients requesting shockwave
Option to lease
Our most popular modality
Low Level Laser
Multi Radiance
Try the unit for 14 days
Complimentary training included
Option to lease
FREE educational material
BTL Modalities
Ultrasound, IFC & Laser
Try a BTL unit for 7 days
Offer your patients a new treatment option
FREE educational material
Contact us to learn more.
1-800-561-0310