3 Section Bariatric Table with Electric Backrest
SKU: V-SM3573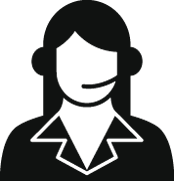 Get Expert Advice
For healthcare professionals only
Contact us >

Description
The Bariatric 3-Section table features electric height, backrest and foot section operation for effortless patient positioning for a wide range of examination procedures. This table includes a retractable wheel design and has a lifting capacity of 715 lbs. Clearance beneath frame for a mobile hoist.
- Lifetime warranty on frame; 5 year on upholstery, actuator and other components
- Highest upholstery Martindale Rating in the industry
- Frame with interlocking components and robotic welding
Features
- Safe working load and lifting capacity (from minimum height) of 325kg (715lbs)
- Adjustable angle electric backrest from horizontal to +80 degrees positive
- Adjustable angle head/foot section from -25 to +75 degrees positive
- The power assisted foot section incorporates anti-trap design gas strut
- Electric height elevation from 43-97cm (17"-37")
- Retractable wheel design and adjustable foot for stability on uneven surfaces
- Purpose made precision bearings on all pivot points
- Clearance beneath frame for mobile hoist
- Hand switch fitted as standard
- Standard width 80cm
- Choice of upholstery colours
Documents
SEERS Environmental Certificate (PDF)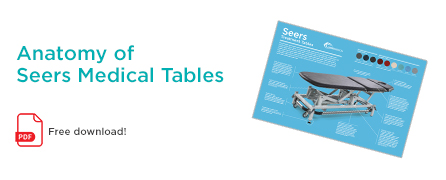 Safety standards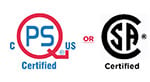 To ensure the safety of healthcare professionals and patients, the Government of Canada makes it mandatory that electrical equipment successfully pass electrical and load safety standards by a nationally accredited certification body. By the same laws, manufacturers and equipment suppliers have a choice. They can choose from several equally accredited testing laboratories such as QPS or CSA Group which are legally equivalent.  As a healthcare provider, it's important to understand the risks of purchasing electrical equipment that don't meet Canadian safety standards.  Purchasing tables that meet electrical and load safety standards mean that they're electrically safe and they've been engineered to structurally bear its weight load capacity. To understand more, please read our "How Are Medical Devices Regulated in Canada" blog.