Thera-Cane Pressure Point Massager
$50.95 - $235.00
Special pricing for healthcare professionals — sign in to view.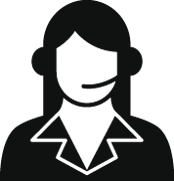 Get Expert Advice
For healthcare professionals only
Contact us >

Description
Used by therapists in a wide variety of clinical settings for patients who suffer from muscular pain and discomfort. Thera-Cane makes it possible for patients to self-apply pain-relieving deep compression directly to hard, knotted "trigger points" even in the hardest-to-reach muscles between your shoulder blades. Thera-Cane can provide temporary relief from muscular tension, stiffness, tenderness and soreness. Made of Fiberglass. Instruction Booklet included.
How to use a Thera-Cane
- Begin with light pressure and short periods of use as your muscles will require a breaking in period
- Once sufficient pressure is attained move the applicator ball, along with your skin (it slides across the muscle)
- This pressure should be contained within an area the size of a quarter
- The more concentrated the pressure, the more effective the response
- Proper leverage reduces excessive hand and arm movement and makes the Thera Cane easier to use
- A few minutes work on one or two troublesome points is sufficient