Quality, performance and comfort
Exclusive to OrthoCanada, Sukha is a new and carefully curated line of professional massage therapy products that brings performance, reliability, and value to the workplace. The design, quality, and craftsmanship of Sukha products have been tested to meet the daily needs of high-volume clinics, patient comfort and safety, and to perform at a professional level. 

Sukha offers starting and seasoned clinicians 3 quality tables and a full range of accessories at an affordable price. Approved by Canadian safety standards to ensure the well-being of professionals and patients.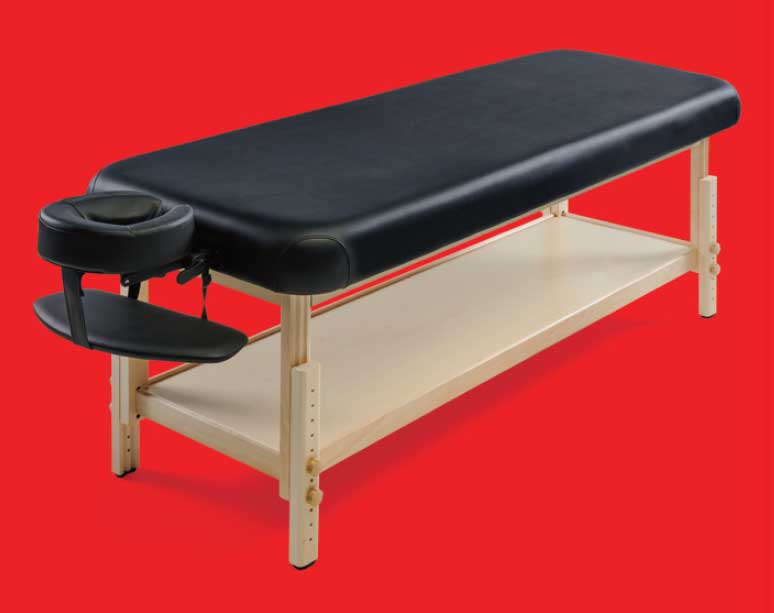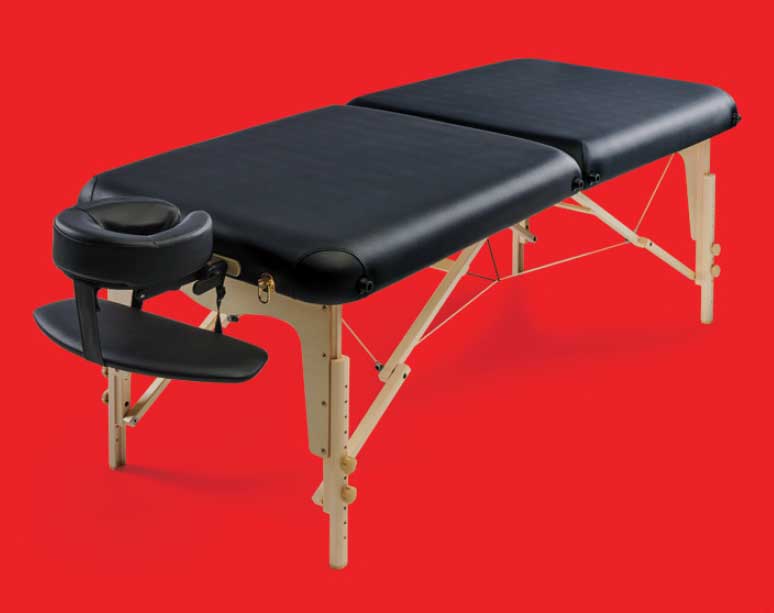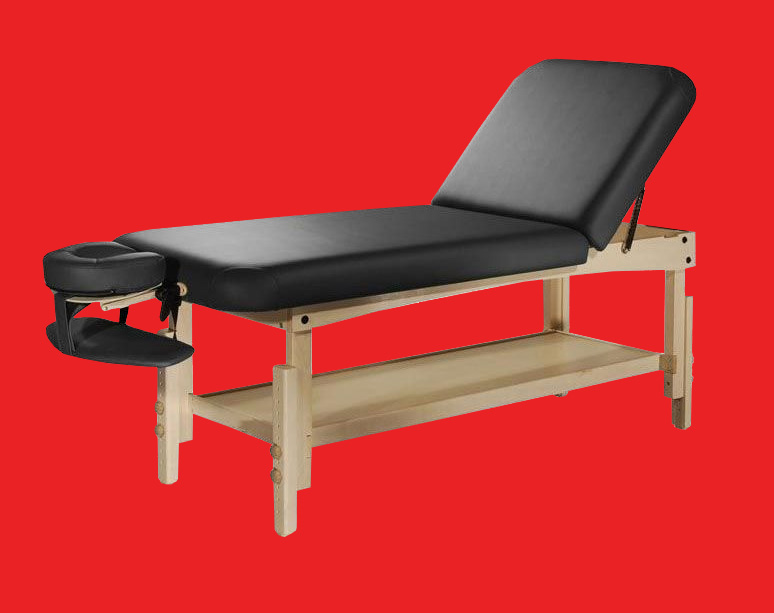 Exceptional Value for Canadian Professionals
Unbeatable
Value
OrthoCanada is aware of the financial challenges involved in outfitting a practice with good quality, durable and reliable equipment. The Sukha product line has been carefully selected to include a price point that makes it possible for professionals to equip their practice with the right products from the get-go. 
Meeting Canadian Safety Standards
Safety first! The Sukha electric massage table frame has been engineered and the actuator carefully selected to accommodate a static load of 900lbs to successfully pass Canadian electrical and load safety standards by a nationally accredited certification body.
Quality, Durability & Reliability
From the European beech wood and reinforced steel frame to the carefully thought-out grommet system at both end of the massage tables for even wear over time, Sukha products deliver dependability and peace of mind in a professional practice.

Outstanding
Comfort
From the massage tables that include a 3" multi-layered plush padding that's covered with a Soft-Touch fabric, to the quality of the microfiber sheets that have a luxurious and silky feel, Sukha will bring happiness, comfort and relaxation in the workplace.

NEW
Sukha Professional
Multipurpose Massage Lotion
The Sukha Professional Multipurpose Massage Lotion is a water and natural oil-based lotion that has been carefully formulated for a variety of massage therapy techniques. Its exceptionally light, smooth, silk-like feel, creamy texture and slow absorption rate provide an ideal and gentle drag across the soft tissues and delivers a nice balance between glide and grip for both superficial and deeper treatment across all body parts. Non-greasy, soothing formula enriched with Aloe Vera and Vitamin E leaving skin feeling soft, nourished, and moisturized. Free of fragrance, dyes, and nut oils to reduce the incidence of allergies. 
Made in Canada.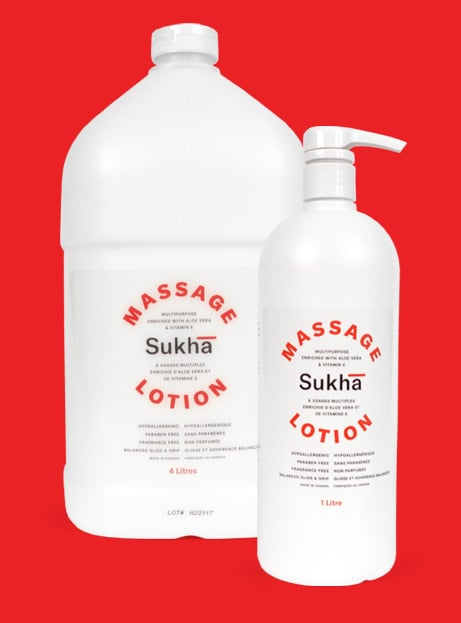 Sukha Massage Accessories
Sukha offers a complete line of professional quality massage therapy accessories and supplies to meet the needs of your practice.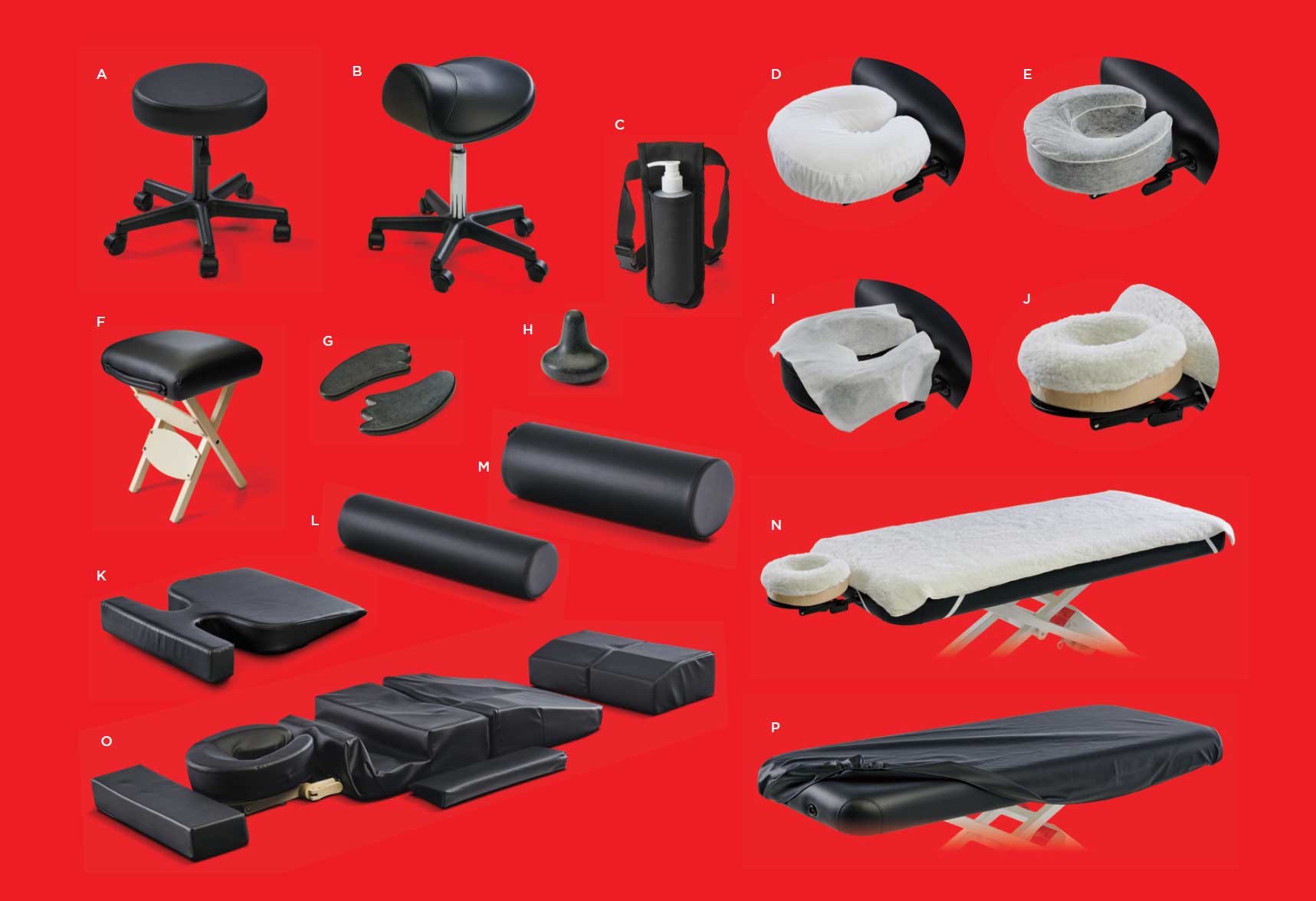 Sukha Microfiber Sheets
Ideal for clinical use, our ultra soft Sukha microfiber sheet set combines a luxurious feel with durability for outstanding value in a clinic. Patients will appreciate the softness of these high quality 100% polyester sheets, and clinic owners will appreciate the savings gained from their longer lifespan and reduced laundry costs.