SEERS 3-Section Hybrid Table with 90º Drop End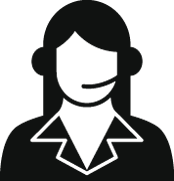 Get Expert Advice
For healthcare professionals only
Contact us >

Description
Combining the features of our most popular treatment tables with those of a massage table, the Seers 3-section hybrid table is the optimal solution for busy practices offering both physiotherapy and massage therapy services. 
It incorporates both an adjustable backrest and a one-hand adjustable drop end head section. It is designed to accommodate a wide range of manual therapy and patient examination procedures. With almost vertical movement during height adjustments, this hi-lo has anti-bacterial upholstery, anti-entrapment designed gas struts, a breathing hole, and either an electric control foot pedal (second pedal optional) or an electric perimeter foot switch.  It includes the same high quality and durable frame as the Seers V-330 and V-335 treatment tables with a foam padding that is that is thicker and softer to the touch - 2 layers of semi-firm foam padding along with an additional top layer of memory foam underlay.    
- Lifetime warranty on frame; 5 year on upholstery, actuator and other components
- Highest upholstery Martindale Rating in the industry
- Anti-entrapment gas struts
- Frame with interlocking components and robotic welding
- 3 layers of foam padding including a layer of memory foam underlay
Safety standards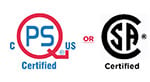 To ensure the safety of healthcare professionals and patients, the Government of Canada makes it mandatory that electrical equipment successfully pass electrical and load safety standards by a nationally accredited certification body. By the same laws, manufacturers and equipment suppliers have a choice. They can choose from several equally accredited testing laboratories such as QPS or CSA Group which are legally equivalent.  As a healthcare provider, it's important to understand the risks of purchasing electrical equipment that don't meet Canadian safety standards.  Purchasing tables that meet electrical and load safety standards mean that they're electrically safe and they've been engineered to structurally bear its weight load capacity. To understand more, please read our "How Are Medical Devices Regulated in Canada" blog.
Technical Data
| | |
| --- | --- |
| Warranties |   |
| Frame | Lifetime Warranty |
| Upholstery | 5 years |
| Actuator | 5 years |
| Other Components | 5 years |
|   |   |
| Country of Origin |   |
| Manufacturing and assembly | UK |
| Upholstery | Italy |
| Motor and Actuator | Denmark |
| Gas struts | Germany |
|   |   |
| Service and Spare Parts |   |
| Upholstery | Replacement upholstery available in Canada |
| Parts | Parts available in Canada |
| Service and Maintenance | S&M program available in Canada  |
|   |   |
| Motor |   |
| Actuator control box | InMotion |
| Electrical Marking | cETL |
| Mains | Medical grade 912141-A (hospital cord) |
| Mains voltage | 100-240V AC 50-60 Hz  |
| Duty Cycle | 10%, Max 2 min./18min |
| Footswitch |   |
| Perimeter footswitch (optional) | Seers Medical hands free height operation |
|   |   |
| Lift Performance Data |   |
| Height range | 50.8cm to 106cm  (20" to 41.75") |
| Lifting capacity | 240kg (528lbs) |
| Static load capacity | 600kg (1,322lbs) |
| Lift time from low to high | 35 sec. (travel range from 18" to 39") |
|   |   |
| Sections Performance |   |
| Backrest gas strut | German made Stabilus® gas strut with anti-trap design |
| Backrest angle | 0˚ to 65˚ |
| Head section gas strut | German made Stabilus® gas strut with anti-trap design |
| Head section angle | 5˚ to -90˚  |
|   |   |
| Table Upholstery |   |
| Upholstery | Mundial® Series institutional grade vinyl |
| Anti-bacterial upholstery | Protects against microbial and fungal growth |
| Water resistance | Waterproof |
| Fire resistant | Flammability requirements of BS 7176 |
| Martindale abrasion test | 100,000 cycles resistance (vs. industry standard of 50,000) |
| Colors | Choice of 3 standard and 12 custom colors |
| Cushion thickness | 7.6cm (3") of foam (2 layers of high density foam + 1 layer of memory foam) |
| Bottom part of cushions | Additional layer of Mundial Series vinyl |
|   |   |
| Frame |   |
| Framework coating | Electro-statically polyester powder coated |
| Anti-bacterial framework | Anti-microbial and fungal growth protection |
| Maintenance | Easy to clean |
| Pivot points | Purpose made precision bearings |
| Bearings | Self lubricating bearings |
| Interlocking of high load parts | Adds strength to the frame |
| Welding | Laser cut robotic welding with increased quality and accuracy |
| Traceability | Frame components are barcoded |
|   |   |
| Castor System |   |
| Swivel castor | Tente® 75mm sturdy institutional castors |
| Load capacity per castor | 75kg (165lbs) |
| Combined load capacity | 300kg (660lbs) |
| Locking mechanism | Institutional retractable wheel design |
| Stability system | Single adjustable foot for stability on uneven surfaces |
|   |   |
| Dimensions |   |
| Width | 70cm (27.5") |
| Total length | 193cm (76") |
| Head section length | 38cm (15") |
| Middle section length | 50cm (20") |
| Foot section length | 103cm (40.5") |
|   |   |
| Patient Transfer and Positioning |   |
| Clearance beneath frame | For mobile hoist & therapist positioning |
| Wheelchair accessible | Equal height as wheelchair seat |
| Patient positioning | In lying or sitting position |
| Breathing hole and plug | Included as standard |
|   |   |
| Weights |   |
| Total weight | 104 kg (229lbs) |
| Total weight with crate | 113 kg (249lbs) |
| Size of crate | 205cm x 73.6cm x 61cm |
| Safe working load | 240kg (528lbs) |
|   |   |
| Quality Management Systems |   |
| Management system | ISO 13485 accreditation |
| Quality management | ISO 9001 accreditation |
| Environmental management | ISO 14001 accreditation |
| Basic safety | EN 60601 |
| Static forces | EN 60601-1 |
| Medical electrical equipment | IEC 60601-1 |
| Final inspection certificate | Each product comes with a valid inspection certificate |
|   |   |
| Safety Systems |   |
| Mechanical safety | EN 60601 |
| Static forces and load tests | EN 60601-1 |
| Medical electrical equipment | IEC 60601-1 safety accreditation |
| Flammability requirement | BS 7176 for upholstered couch sections  |
|   |   |
| Environmental Quality Management |   |
| Manufacturing Processes | Highly efficient and controlled environment |
| High Quality Packaging | Can be recycled or reused  |
|   |   |
| Accessories |   |
| Breathing hole & plug | Included |
| Perimeter foot switch | Standard on V-335-G-HYB model |
| Paper roll holder | Optional |
| Base frame cover | Optional |
| Massage face cradle, bracket and padding | Optional (v-950) |
|   |   |
| Service Centers in Canada |   |
| Ottawa-Gatineau | 1-800-561-0310 |
| Toronto-Kitchener-Waterloo | 1-877-506-0008 |
| Vancouver | 1-877-855-8818 |