$289.00
Quantity Discounts
Order supplies in bulk and save!

Buy 6+, Save 5%  |  Buy 20+, Save 10%*
* Per SKU. Volume discounts cannot be combined with existing promotions, discounts or promocodes.

Prices automatically adjusted in your cart. Available exclusively to logged in healthcare professionals  on select supplies and equipment.


Description
Similar to the GenuTrain Knee Support, Genutrain P3 Knee brace is a longer brace that's designed to cover more surface area around the kneecap providing more additional support. The 'P3' stands for "Permanent Patella Protection". This name derives from the fact that the brace protects the kneecap securely.
This brace comes with a viscoelastic pad and adjustable strap that stabilizes the patella and prevent drift, and it's medical grade compression reduces swelling. It's breathable, active knit contours to the knee preventing the brace from slipping. A specially shaped pad with high sides has built-in inward facing silicone dots that apply pressure to ease the pain. Two pads of this patella stabilizer work together to stimulate circulation with every movement to speed up the healing process.
Specifications
Color: Titan (Gray) - As shown in the above picture
Size Available: Sizes 1-6 (please refer to chart below)
Medical Grade Compression: 20–30 mmHg
Made in Germany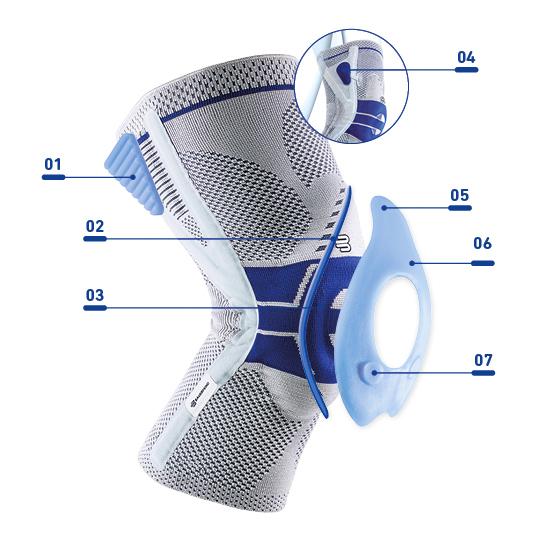 1 - Muscle-Relaxing Pad: Reduces sideways pulling of the kneecap to further reduce pain and relax the muscles with soothing massage
2 - Corrective Guide: Stops your kneecap from drifting outward to relieve discomfort and help healing without loss of mobility
3 - Patella Cover: Counteracts the tilting of the patella
4 - Corrective Strap: Can be individually adjusted for optimal kneecap control
5 - Pad Wing: Proximal extension as far as the vastus medialis muscle, improved proprioception
6 - Ring-Shaped Soft Pad: Surrounds the kneecap to center it for stability.
7 - Wedge-Shaped Hoffa Soft Pads: Two pressure points on the pad relieve strain on the area below the knee, which frequently causes pain
Indications
- Patella dislocation
- Knee misalignment
- Anterior knee pain
- Patellar tendonitis
How to Measure
Measure the circumference of your leg at two points (leg must be bent at a 30 degree angle):
A) 17cm above the middle of the knee
B) 15cm below the knee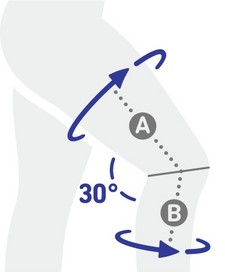 Size Chart
| | | |
| --- | --- | --- |
| Size | Upper Circumference A (cm) | Lower Circumference B (cm) |
| 1 | 39-42 cm | 28-31 cm |
| 2 | 42-45 cm | 31-34 cm |
| 3 | 45-48 cm | 34-37 cm |
| 4 | 48-51 cm | 37-40 cm |
| 5 | 51-54 cm | 40-43 cm |
| 6 | 54-57 cm | 43-46 cm |
Documents