$32.95 - $44.95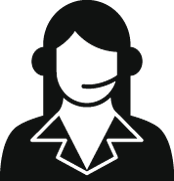 Get Expert Advice
For healthcare professionals only
Contact us >

Description
Please note these rolls are reserved and branded for CBI clinics and are shipped without a packaging box
For regular bakrols, please
see here
Nekrol, OC-2000-CBI
Our Nekrol cervical roll provides neck support while sleeping. Place it inside the pillowcase along the border of a feather, fiberfill, visco-elastic, or gel-filled pillow. Depending on how much neck support is required, lie it along the edge of the pillow or just in front, but off the pillow. The terrycloth cover has a full length zipper to permit easy removal for washing. Manufactured from low-density cut foam, a Nekrol should be replaced annually. 3" diameter x 19" length
Bakrol 5, OC-2001-CBI
Our 5" Lumbar Roll is recommended for a more serious back problem during the acute stage. It also offers good support on sofas and softer furniture. Manufactured from high-density cut foam, covered with Airflow fabric, and has an adjustable elastic positioning strap. 5" diameter x 11" length
Bakrol 4, OC-2002-CBI
Our 4" Regular Lumbar Roll is a smaller version of the bakrol 5. It is chosen when less support is needed, or for smaller people. Manufactured from high-density cut foam, covered with Airflow fabric, and with an adjustable elastic positioning strap.
Bakrol 4HD, OC-2003-CBI
Our 4" Heavy Density Lumbar Roll is used by heavier people, and by those who regularly sit for hours at a time, such as bus, truck or taxi drivers. Molded foam for exceptional durability. 4" diameter x 12.5" length
Bakrol C & CD, OC-2004-CBI / OC-2010-CBI
Both our Contour and Contour Deluxe ("CD") lumbar rolls are designed with a more ergonomic form, making them preferable for long-term use. Both rolls have exceptional durability because of their molded foam construction.
The Bakrol CD provides more plush comfort with medium support. 2.5" diameter x 16" length
The Bakrol C provides firm support. 2.5" diameter x 16" length
Bakrol D, OC-2005-CBI
Our D-Shaped Lumbar Roll is the roll of choice for office chairs when the user is required to lean forward or change position frequently. It provides firm support to the lower back. Manufactured from high-density cut foam, covered with Airflow fabric, and with an adjustable elastic positioning strap. 4" diameter x 12" length
Demi Bakrol 2.5, OC-2009-CBI
Our Demi Lumbar Roll is 2.5" thick, with one flat side so that it hugs the chair back better. The Demi Lumbar Roll is the roll of choice for smaller people, and when less support is needed. Manufactured from high-density cut foam, covered with Airflow fabric, and has an adjustable elastic positioning strap. 2.5" diameter x 11" length