Bakrol 4 - 4" Lumbar Roll
$32.95 - $699.00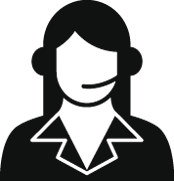 Get Expert Advice
For healthcare professionals only
Contact us >

Description
Our 4" Regular Lumbar Roll is a smaller version of the bakrol 5. It is chosen when less support is needed, or for smaller people. Manufactured from high-density cut foam, covered with Airflow fabric, and with an adjustable elastic positioning strap.
OC-2002 4" diameter x 11" length
Why Choose Bakrol?
Bakrol lumbar rolls have been recommended by professional health care workers across North America for over 20 years. It is clinically proven that regular use of lumbar and cervical rolls helps prevent, and accelerates the healing, of back and neck musculo-skeletal problems.
6 reasons to choose a bakrol™
•Combines superior design with high quality construction for years of use
•7 sizes & densities to choose from
•AirFlow™ fabric
•Secure Lock™ buckle
•Adjustable elastic strap
•100% manufacturing guarantee.
Document