ValuTrode Electrodes with White Foam (various sizes)
Axelgaard
$47.95 - $105.00
Quantity Discounts
Order supplies in bulk and save!

Buy 6+, Save 5%  |  Buy 20+, Save 10%*
* Per SKU. Volume discounts cannot be combined with existing promotions, discounts or promocodes.

Prices automatically adjusted in your cart. Available exclusively to logged in healthcare professionals  on select supplies and equipment.


Description
Made by Axelgaard for use with TENS and NMES units. Patented multi-layer MultiStick hydrogel prevents curling. Available in white foam, beige cloth or white cloth backing. Dynaflex equivalent.
MDALL 72547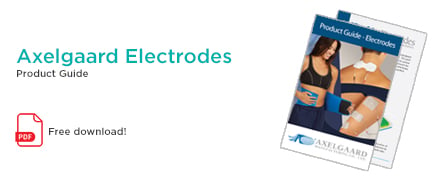 Valutrode (Dynaflex Equivalent)

Recommended for
TENS & NMES
Latex Free
Yes

Smart-Connector
Self adjusting connector to adjust to pin variances; Low Profile for better Patient Comfort.

Yes
Thickness
35mm

Multi-Stick Hydrogel
This patented, dual formulation hydrogel provides a
more durable product & greater number of uses than competitive products.

Yes

Clear Film
Provides a moisture barrier so electrodes can be used with moist heat packs.

No
Cloth Backing
No

Foam Backing
Provides a moisture barrier so electrodes can be used with moist heat packs.

Yes
Stainless Steel Knit Fabric
No
Film with Printed Silver Ink Grid
No
Conductive Black Film
Yes
MultiStick Hydrogel
All Axelgaard electrodes feature patented MultiStick® hydrogel. The formulation of the hydrogel top layer is optimized for bonding to the electrode to prevent delamination, and the bottom layer is specifically formulated for multiple applications to skin. Axelgaard's controlled scrim placement provides consistent structural support. This multi-layer approach ensures the highest quality electrodes in the industry.




How to optimize the life of your re-usable electrodes
The durability of electrodes depends entirely on the application, storage, humidity and care by the user.
Application: Before each electrode's application, skin must be cleaned with water and soap to remove any lotions, skin oils, make-up, and dead skin. Any debris on the skin will be transferred to the gel of the electrode's thereby compromising the integrity of its adhesiveness. A clean surface is the most important factor in the number of applications per electrode.
Storage: After every use the electrode must be returned to the "ON" side of the liner and placed in the original, re-sealable package to prevent loss of moisture. The electrodes should be stored at room temperature. Do not store in freezer or refrigerator, leave in extreme heat, submerge in water or leave outside the package.
Care: After usage, if the electrode picks up small amounts of debris you may use a drop of water on your finger to gently rub the debris off the electrode. Do not use soap, alcohol, submerge in water or scrub with an abrasive material.
Pitting: Check for pitting in the hydrogel layer. Once the gel surface is pitted, electric current may sting the patient.