$50.95 - $63.95
Special pricing for healthcare professionals — sign in to view.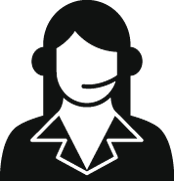 Get Expert Advice
For healthcare professionals only
Contact us >
Description
This Tri-Core Pillow is designed for either back or side sleeping. It provides proper neck alignment that helps to relieve pain in the neck, head, and shoulder. It's filled with Fortrel BactiShield fiber that helps combat growth of bacteria. The difference between standard support (firm) and gentle is subtle. The gentle support option contains less fiber, which slightly reduces the height and firmness of the pillow.
Cleaning Instructions:
- Hand wash only with mild soap
- Dry pillow flat. Do not machine dry.
**Please do not use any product that contains chlorine additives**
Available in 3 Supports:
- Tri-Core® Cervical Pillow - Standard Firm Support - Measures 24" x 16"
- Tri-Core® Cervical Pillow - Standard Gentle Support - Measures 24" x 16"
- Tri-Core® Cervical Pillow - Midsize Gentle Support - Measures 22" x 16"
Documents:
Orthopedic Pillow Instructions (PDF)
What is an Orthopedic Support Pillow (PDF)