Rhizoloc Thumb Stabilizer
$130.00
Special pricing for healthcare professionals — sign in to view.
Quantity Discounts
Order supplies in bulk and save!

Buy 6+, Save 5%  |  Buy 20+, Save 10%*
* Per SKU.
Prices automatically adjusted in your cart. Available exclusively to logged in healthcare professionals  on select supplies and equipment.


Description
Adjustable Velcro® thumb tab allows optional adjustment of movement restriction at the base of the thumb. Adjustable Velcro® fastenings around the wrist and thumb for individualized compression, precise fit and ease of fitting and removal.
Specifications
Color: Titanium
Indications
- Lateral ligament lesions of the 1st MCP (skier's thumb)
- Irritation in the region of the saddle and first metacarpophalangeal joints of the thumb (acute/chronic, e.g. osteoarthritis)
- Thumb joint pain
- Thumb sprains
- Skier's Thumb (Lateral ligament lesions of the 1st MCP)
- Thumb joint arthritis
How to measure
Measure the circumference of your wrist and thumb
*Due to swelling and other issues, your hand size may differ as the support is used. All sizing is approximate*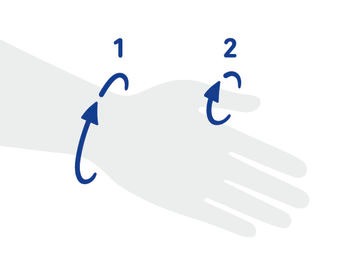 Size Chart
| | | |
| --- | --- | --- |
| Size | Wrist Circumference (cm) | Thumb Circumference (cm) |
| 1 | 12.5 - 16 | 5 - 7 |
| 2 | 16 - 20 | 6.5 - 9 |
Documents