Rhizoloc Thumb Stabilizer
$129.00
Quantity Discounts
Order supplies in bulk and save!

Buy 6+, Save 5%  |  Buy 20+, Save 10%*
* Per SKU. Volume discounts cannot be combined with existing promotions, discounts or promocodes.

Prices automatically adjusted in your cart. Available exclusively to logged in healthcare professionals  on select supplies and equipment.


Description
Adjustable Velcro® thumb tab allows optional adjustment of movement restriction at the base of the thumb. Adjustable Velcro® fastenings around the wrist and thumb for individualized compression, precise fit and ease of fitting and removal.
Specifications
Color: Titanium
Indications
- Lateral ligament lesions of the 1st MCP (skier's thumb)
- Irritation in the region of the saddle and first metacarpophalangeal joints of the thumb (acute/chronic, e.g. osteoarthritis)
- Thumb joint pain
- Thumb sprains
- Skier's Thumb (Lateral ligament lesions of the 1st MCP)
- Thumb joint arthritis
How to measure
Measure the circumference of your wrist and thumb
*Due to swelling and other issues, your hand size may differ as the support is used. All sizing is approximate*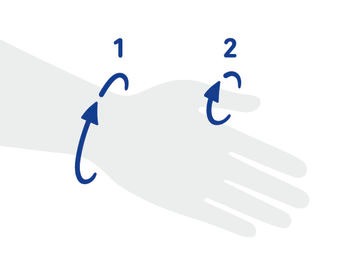 Size Chart
| | | |
| --- | --- | --- |
| Size | Wrist Circumference (cm) | Thumb Circumference (cm) |
| 1 | 12.5 - 16 | 5 - 7 |
| 2 | 16 - 20 | 6.5 - 9 |
Documents