MalleoTrain S Ankle Support
$159.00
Quantity Discounts
Order supplies in bulk and save!

Buy 6+, Save 5%  |  Buy 20+, Save 10%*
* Per SKU. Volume discounts cannot be combined with existing promotions, discounts or promocodes.

Prices automatically adjusted in your cart. Available exclusively to logged in healthcare professionals  on select supplies and equipment.


Description
MalleoTrain S Ankle Brace supports and stabilizes the ankle without restricting mobility. Adjustable strapping for individual fit. Breathable fabric keeps foot cool, while pressure is reduced at edges to help prevent constriction. Machine washable.
Specifications
Medical Grade Compression: 20–30 mmHg
Color: Titanium (Gray) - as shown in picture above
Made in Germany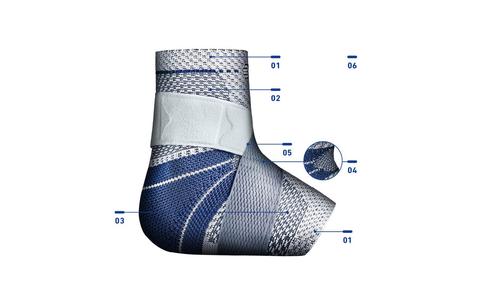 1 - Reduced pressure at the edges: Prevents constriction
2 - Anatomically Fitted: Naturally conforms to your body for gentle compression that keeps your ankle in place and improves circulation
3 - Easy on, easy off: Includes aid which makes the support easy to put on and take it off - even for people with arthritis
4 - Soft Knit Fabric: Breathable knit is comfortable to wear, gentle on your skin and keeps moisture away from the body
5 - Figure 8 strapping: Fastened around the foot in a figure-8 pattern, the straps secure the ankle, mid-foot and back of foot
6 - Reduced pressure at the edges - Prevents constriction
Indications
- Ligament instability
- Post-operative rehabilitation
- Mild sprains
- Supination prophylaxis, especiallywhen playing sports
How to measure
Measure the circumference of the ankle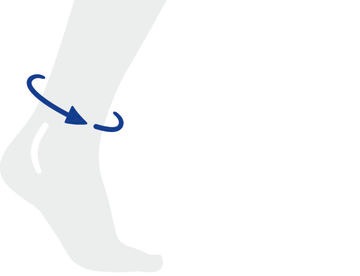 Size Chart
| | |
| --- | --- |
| Size # | Ankle Circunference (cm) |
| 1 | 17 - 19 |
| 2 | 19 - 21 |
| 3 | 21 - 23 |
| 4 | 23 - 25 |
| 5 | 25 - 27 |
| 6 | 27 - 29 |
Documents