$329.00
Special pricing for healthcare professionals — sign in to view.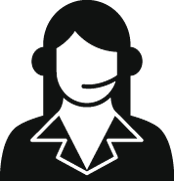 Get Expert Advice
For healthcare professionals only
Contact us >
Description
The GenuTrain S knee brace provides reliable support for the knee thanks to the combination of joint side bars and an adjustable strap system. It has an extra level of support using sidebars and a kneecap insert to guide the knee's movement while keeping the area stable. The knee is stabilized but your mobility is not affected. A viscoelastic padded ring keeps the kneecap centered. This produces a massage effect which activates the surrounding muscle tissue and stimulates circulation. The GenuTrain S brace combines medical grade compression with soothing massage to reduce swelling, irritation and pain.
Specifications
Color: Titan (Grey) Only - as shown in above picture
Material: Breathable train active knit 
Fits either left or right knee 
Medical grade compression (20–30 mmHg)
Made in Germany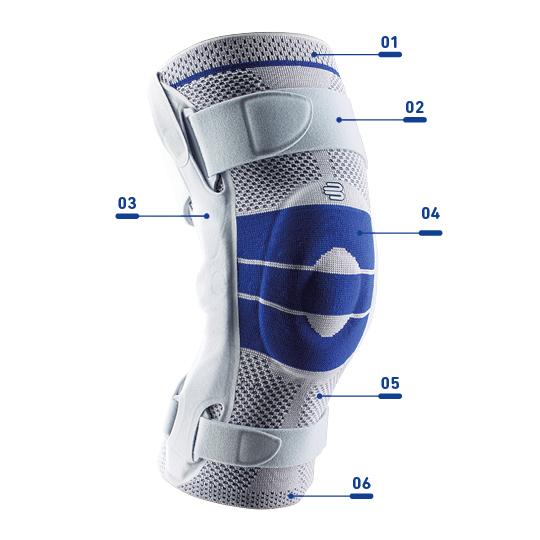 1 - Three-dimensional Fabric: Automatically conforms to the body's natural shape for ideal fit and optimal joint stabilization
2 - Adjustable Straps: Lets you control the amount of pressure, for a better fit and just the right amount of support
3 - Joint Sidebars: Straps connect directly to sidebars for superior stability in the knee and surrounding area
4 - Viscoelastic Pads: With a massage effect during movement
5 - Soft Knit Fabric: Breathable knit is comfortable to wear and keeps moisture away from the body
6 - Reduced pressure at the edges: Prevents constriction
Indications
- Knee stability
- Reduce knee swelling
- Osteoarthritis of the knee
- Arthritis 
How to Measure
To measure your knee for a GenuTrain S Knee Support, measure the circumference of your leg at two points:
A. 5.5" (14cm) above the middle of the knee
B. 4.75" (12cm) below the knee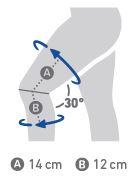 Size Chart
| | | |
| --- | --- | --- |
| Size | Circumference 1 | Circumference 2 |
| 1 | 11" - 12.25" | 15" - 16.125" |
| 2 | 12.25" - 13.375" | 16.125" - 17.375" |
| 3 | 13.375"" - 14.625" | 17.375" - 18.5" |
| 4 | 14.625" - 15.75" | 18.5" - 19.75" |
| 5 | 15.75" - 17" | 19.75" - 20.875" |
| 6 | 17" - 18.125" | 20.875" - 22" |
| 7 | 18.125" - 19.25" | 22" - 23.25" |
Documents
Collected Studies from Bauerfeind
Video