Exclusive Offers to CPA Members
As a CPA Member, you are entitled to the special deals & discounts listed below.
10% OFF
ITO Electrotherapy
For a limited time, Save 10% OFF select ITO Electrotherapy units. 
Made in Japan, ITO physiotherapy products are used in medical facilities around the world. As a pioneer in the field of electrotherapeutic agents, ITO was an early adopter to embrace Evidence Based Medicine. ITO continually incorporates this philosophy in the development of innovative physio equipment.
Call 1-800-561-0310 x1720 to inquire further.
10% OFF Masks
Save 10% OFF Level 2 Masks by using Promocode "CPAMASK" at checkout.
Discounts
on Clinic Set-Ups
Receive discounts on clinic set-ups or expansions. Book a call with one of our Experts today!
Try a unit before you buy with our trial program!
We offer trials on several of our devices such as Shockwave, Low Level Laser, and even some IFC/Ultrasounds. 

BTL Radial Shockwave
Try the unit for 14 days
Complementary clinical training from a PT with over 10 years of experience
Don't turn away patients requesting shockwave
Option to lease
Our most popular modality
Low Level Laser
Multi Radiance
Try the unit for 14 days
Complimentary training included
Option to lease
FREE educational material
BTL Modalities
Ultrasound, IFC & Laser
Try a BTL unit for 7 days
Offer your patients a new treatment option
FREE educational material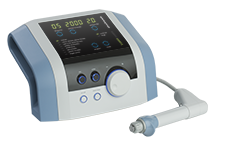 FREE

Virtual Shockwave Training Available
Radial Shockwave Training Essentials
This training is intended for healthcare professionals who need more in-depth knowledge and practice on integrating shockwave therapy in their clinic's treatment options. The objective is to provide the clinician with the necessary tools and techniques to feel comfortable and confident using this modality in their everyday practice and to get the best results for their patients.